Sutton Foster, Hugh Bonneville tabbed as Mormon Tabernacle Choir Christmas concert guests
October 12, 2017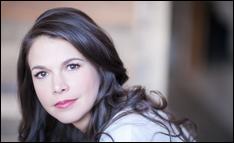 SALT LAKE CITY — Two-time Tony Award-winning actress and singer Sutton Foster, as well as British actor Hugh Bonneville, will highlight the Mormon Tabernacle Choir's Christmas concert in December, the choir announced Thursday morning.
The free concert will be held Dec. 14, 15 and 16 at the Conference Center. Foster will be the featured soloist of the concert, while Bonneville will be the narrator.
Foster won a Tony Award twice for Best Performance by a Leading Actress in a Musical in 2002 for her roles in "Thoroughly Modern Millie" and "Anything Goes." She also has been nominated six more times and also has won more than a dozen awards for her work in theatre.
"I'm just so honored and excited, and I just cannot wait to sing with the choir and to celebrate Christmas in Utah — that's what I'm most excited about," she said in a phone interview from New York on KSL Newsradio's "Doug Wright Show."
Foster said she has made several stops in the state touring with various musicals and has several friends living in Utah.
"I feel like, in some ways, I'm coming home ... I cannot wait to be there," she added.
Bonneville, who is best known for his performance on the TV show "Downton Abbey," said he was first approached by Ronald Gunnell, assistant to the president of the Mormon Tabernacle Choir, at the Salt Lake airport last summer.
He was walking out to a car outside the airport when he ran into Gunnell by accident. That's also when Gunnell made a request to Bonneville to narrate the Christmas event.
"I said, 'Let's speak next year' and here were are," Bonneville said with a chuckle over the phone from Great Britain.
Bonneville, who mentioned he has seen previous events on television, said he was thrilled with what the special will look like this December.
"I can tell you this is going to be as spectacular, if not more so — it's an epic production that's being planned, and I'm very excited to be a part of it," he said, declining to include specific details of the event.
Tickets for the concert will become available at lds.org/events beginning at 10 a.m. on Oct. 21 on a first-come, first-served basis. Individuals will be able to request up to four tickets online, and tickets will not be available through phone or in person at a ticket office.
Gunnell said a username and password are required to request any tickets. He said an account can be set up prior to Oct. 21, allowing the process to be quicker for anyone looking to acquire tickets. More information about the event can be found at motab.org/christmas.
Contributing: Doug Wright