Urgent flash flood warning hits southern Utah after wildfire
August 12, 2017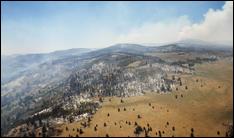 PANGUITCH, Utah (AP) — There's an urgent warning for the flash floods expected in southern Utah, where a major wildfire has left a "burn scar" that could make conditions even more dangerous.
The National Weather Service late Saturday morning issued the warning for west-central Garfield County until 3:15 p.m., noting the flash floods are expected shortly.
Meteorologists say 1 to 2 inches of rain have already fallen in an hour and that more heavy rain from thunderstorms could hit the Panguitch and Hillsdale areas.
The weather service says dry washes, streams and rivers can become raging, killer currents in minutes, even if rainfall is distant.
A month-long wildfire contained in July burned about 110 square miles (290 square kilometers) of land in the area, leaving little foliage to soak up the rain.
Copyright © The Associated Press. All rights reserved. This material may not be published, broadcast, rewritten or redistributed.