CFB preview: Utah State out to erase memories of 3-9 season
August 12, 2017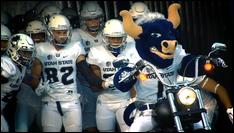 LOGAN — The bar has been raised for Utah State's football program.
After five-straight bowl appearances and 43 wins in five years, last season's 3-9 record was unacceptable — no more so than to the players who remember the 1-7 Mountain West slog.
After an offseason of soul-searching and a new offensive coordinator, the Aggies are ready to rebound.
"That's not our culture. That's not who we are as a team," said quarterback Kent Myers, who completed 58 percent of his passes for 2,389 yards. "We are not a 3-9 team and we won't be a 3-9 team ever again. That's simple.
"We won't be like that ever again. This last year, we just let too many things slide and that was the death of us. But we aren't letting that slide anymore."
Added linebacker Chase Christiansen: "We are hungry this year. We didn't have the year that we wanted and we know that as a team. Individually, I'm taking this year personal.
"This is my last year, my senior year. I'm just going out and win a Mountain West championship and go to a bowl game."
Head coach Matt Wells doesn't want to use it as an excuse, but there were plenty of close losses on the schedule. Utah State lost four games by one touchdown or less, including come-from-ahead setbacks to Colorado State, New Mexico and Nevada in conference play.
"The season last year was disappointing in terms of record. Not in terms of the kids and how they competed, but the record," Wells told KSL Sports. "Missing a bowl game, we haven't done that for quite a while, and that's not what we want. We want to be great in the community."
Utah State was picked to finish last in the Mountain West at the league's annual media day.
Did the players notice?
"It puts a little chip on our shoulder, whenever anyone has projections you're not favored in," Myers said. "You just have to smile at it, say OK, and accept the challenge of proving people wrong."
New offensive coordinator David Yost, who previously coached at Oregon, has an up-tempo offense and a resume that includes three NFL quarterbacks.
He also inherits Myers, a senior who has started 25 games in his Aggie career. But the team's lead signal caller had just 10 touchdown passes with eight interceptions in 2016 — numbers he will have to improve to get Utah State's offense back on track.
"I think this year, coach Yost brings his offensive system we run, it's made for the quarterback to be successful," Myers said. "I'm going to be able to feed the ball to all my receivers and get the ball to the playmakers, and I think that's really going to help me this year."
Myers knows this year needs to be different if Aggie fans are going to remember him fondly after his time elapses.
"I want to be recognized as leaving a good legacy and being the leader that I always wanted to be," Myers said. "I want to win a Mountain West championship. I'm 1-1 in a bowl game, so that I want as well.
"I've been working my tail off to be the best quarterback that I can be … I think that with the offense we have, the time I have and the weapons I have around me, I can be the best quarterback in the Mountain West."