Bod Pod: Body composition goes high-tech
April 20, 2017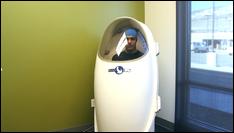 PARK CITY — It's called the Bod Pod. It's a futuristic looking machine that actually delivers body composition numbers.
Felipe Amorim, a former college athlete now auditor, wanted to try it out after receiving a nudge from his wife to get back in shape. "She said, 'Hey, why don't you go to Park City Medical Center? It's a LiVe Well Center, to see where you're at and some of the things you can do," Amorim said.
The Bod Pod is just one of the evaluations the Intermountain Park City LiVe Well Center offers.
You definitely cannot be claustrophobic to undergo the short test. It uses air displacement to measure body weight, body fat percentage and total lean body mass. All under a minute. A doctor then goes over the results.
Dr. Kelly Woodward, medical director of the Park City LiVe Well Center, said, "You can tell you're losing weight just by stepping on a scale but what you can't tell is are you losing muscle?"
"What we want to do with him is to help him be very active by working on muscles and maintaining muscle mass so that he has years and years of an active healthy lifestyle," Woodward said.
At 23 percent body fat, Filipe would like to get it closer to 17. He now has a baseline to work from and a plan. "I can't just exercise and forget about the diet," Amorim said.
Amorim is now thanking his wife for the nudge. "Love my wife, thanks Christy," he said.