Man arrested in connection with sexual assault case involving former martial arts student
April 20, 2017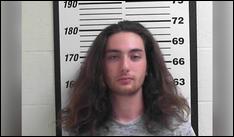 CLEARFIELD — A 20-year-old martial arts instructor was arrested Thursday in connection with a sexual assault case involving one of the instructor's former students, investigators said.
Damian Tyler Fullmer, of Clearfield, was arrested on investigation of six counts of aggravated sexual assault and two counts of forcible sodomy of a child, according to Clearfield Police Sgt. Kyle Jeffries.
Jeffries said police were contacted late Wednesday night by a Roy Police detective who had information about a possible sex offense.
According to a Davis County Jail report, the victim, a 14-year-old girl, attempted suicide Wednesday and was taken to an area hospital. Investigators learned that the girl's parents found out she was having a sexual relationship with a man she identified as Fullmer, the report stated, and that her parents found nude photos of Fullmer and the girl on her phone.
A Clearfield detective interviewed the girl who told him Fullmer was her karate instructor at Evolutionary Martial Arts in Syracuse. The two began having a sexual relationship at around late August or early September 2016, according to the report.
The relations typically happened at Fullmer's house in Clearfield where he lives with his parents, Jeffries said.
After interviewing the girl, Clearfield police arrested Fullmer at his house by about 2 a.m., Thursday. He was then booked into Davis County Jail.
Jeffries said there was no evidence that there were any other victims.
Contributing: Pat Reavy